At GeoSurvey, we are committed to providing an environment to foster the development of our employees' careers.
If you are serious about land surveying as your career and looking for a company to support you in your endeavors, GeoSurvey is the right place to build your professional career.
Career Development at GeoSurvey
GeoSurvey welcomes those individuals that possess a strong work ethic and a desire to make land surveying their chosen career and profession.  We strongly believe in a structured and organized promotion process to get you to your desired career level as quickly as possible. We also believe that each level must be mastered before the next level can be attained. We support our employees with advanced in-house training and tuition reimbursement for their education.  Below is a typical career path in land surveying with GeoSurvey: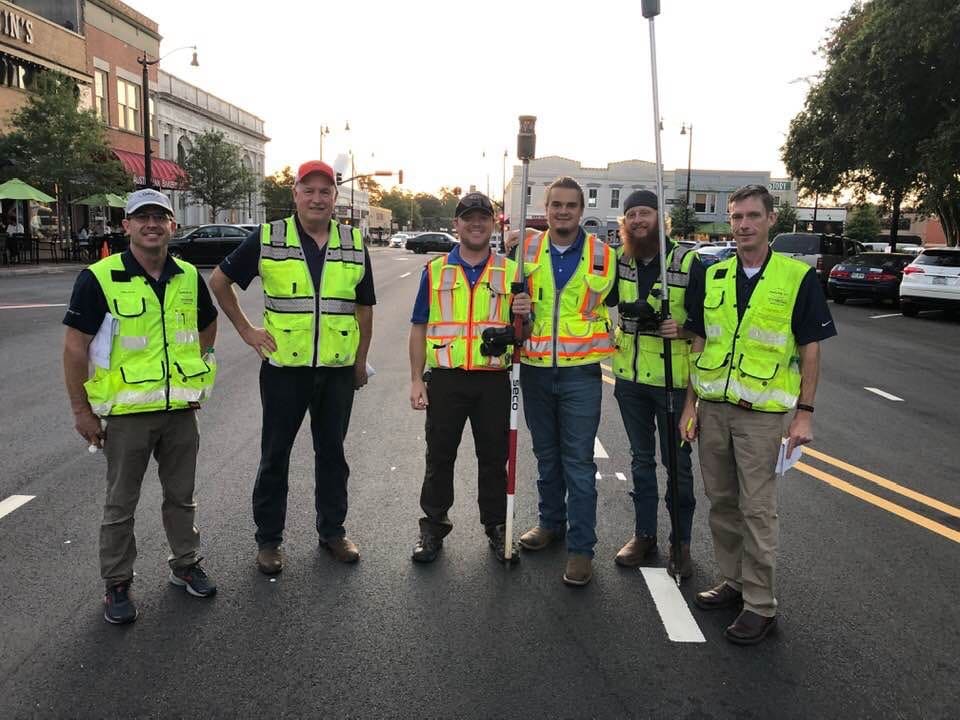 A typical progression for a career in surveying usually begins by learning to operate robotic  survey equipment and our GPS and laser scanning systems. During this phase of your career, you will be encouraged to attend classes to learn more about the art of land surveying.  You'll also be expected to assist your field technician leader with all tasks associated with collecting field data for our land surveys.
Upon mastering the use of our field equipment and controller software utilized in our field data collection processes, you may be promoted to the position of survey field technician. At this level, you will be responsible for all aspects of field data collection and reconnaissance. You will learn many valuable lessons regarding the analysis of field data, data collection methods, field evidence recovery, and resource management.  During these first few years, you will develop a strong foundation future management of surveying resources and personnel.
As you progress through your field experience and continue working towards your licensure as a land surveyor, you next progression will be the opportunity to participate in our survey technician development program. During this time, you will be assigned to work directly in the offices of our land surveyors for a period of approximately six months. You will begin to learn how to utilize our CAD drafting software and surveying software to analyze raw field data collected by our field crews. You will continue to rotate through this program during your time as a field technician, continuing to develop your overall knowledge of land surveying procedures and techniques. Your continued interaction with our registered land surveyors, combined with your field experience and survey coursework, will eventually qualify you to become a registered land surveyor and possibly work as a survey project manager. If you are serious about pursuing your licensure, you will be encouraged to continue attending the necessary classes to obtain your required hours to sit for the land surveyor exam.
After sufficient time as a survey technician, you may be considered for a project management position. At this level, you will be responsible for the management of large surveying and mapping projects. You will be expected to utilize all survey resources efficiently and accurately resulting in a final survey project that meets the standards of GeoSurvey.
Are you ready to join the GeoSurvey team of land surveyors? See our available open positions at GeoSurvey.